Labmix24 is the official distributor for Speira Aluminium reference materials
June 2023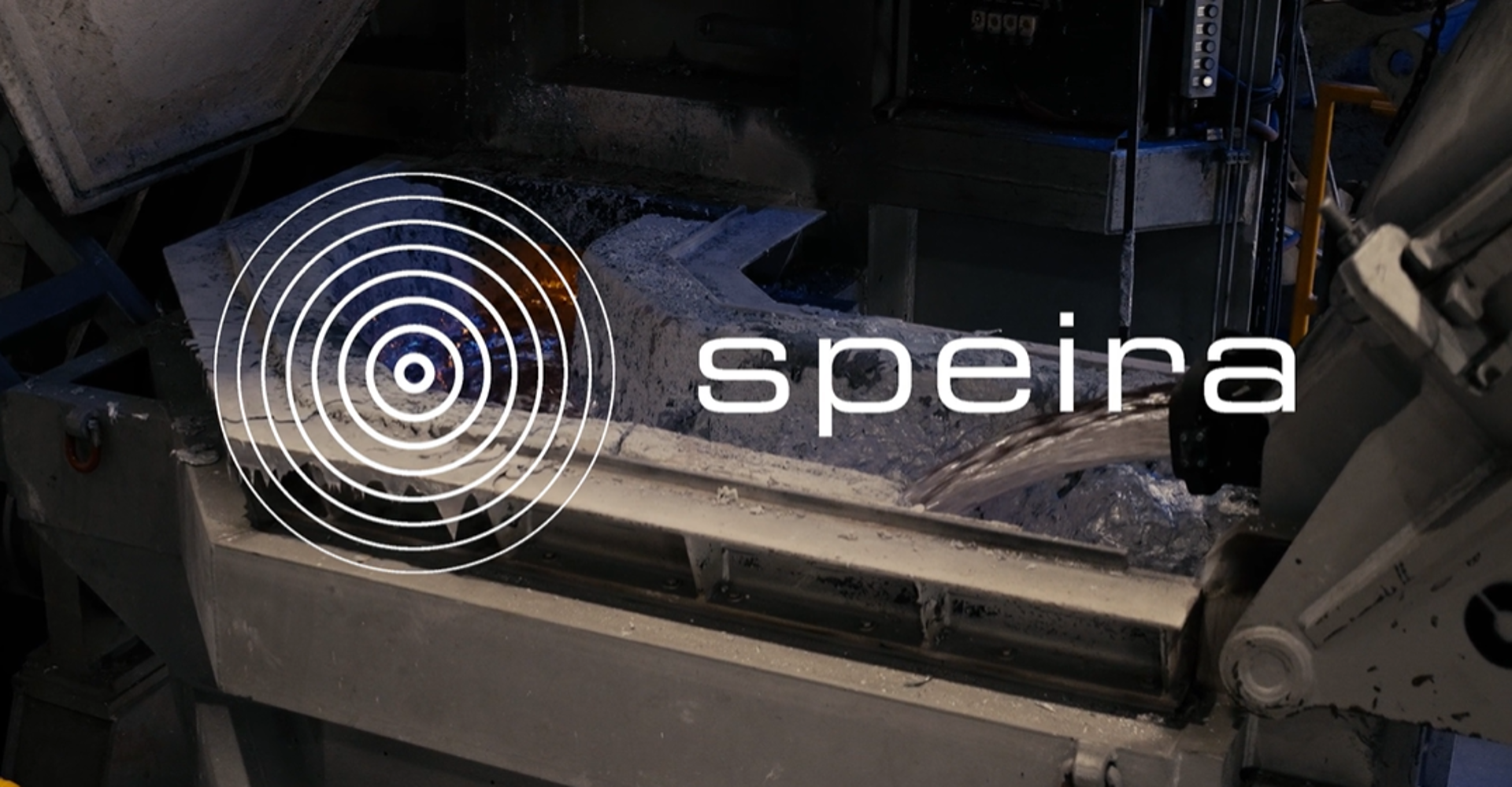 Labmix24 is happy to announce its new distribution agreement with Speira, a leading global recycler and manufacturer of advanced rolled aluminium products. Labmix24 will be the exclusive worldwide distributor for SPEIRA's range of aluminum reference materials.
The R&D department of Speira has been manufacturing aluminum reference materials for spectrometry for over 40 years. More than 200 different types of samples are available to cover a wide range of analytical requirements. These reference materials are appropriate for techniques including OES and XRF.
Labmix24 is a 2023 FOCUS BUSINESS Growth Champion
November 2022
We're thrilled to announce that for the fourth year running, Labmix24 has been named a Growth Champion by FOCUS Business Magazine!
Every year, FOCUS Business Magazine recognizes the 500 German companies with the highest growth rates as Growth Champions.
Since our founding in 2014, we've been striving to become the best place to easily find and source all the reference standards you need, supported by a friendly service team you can rely on.
It's gratifying to see our approach bear fruit.
We're also more motivated than ever to continue to improve our service.
Thank you for your continued support and trust!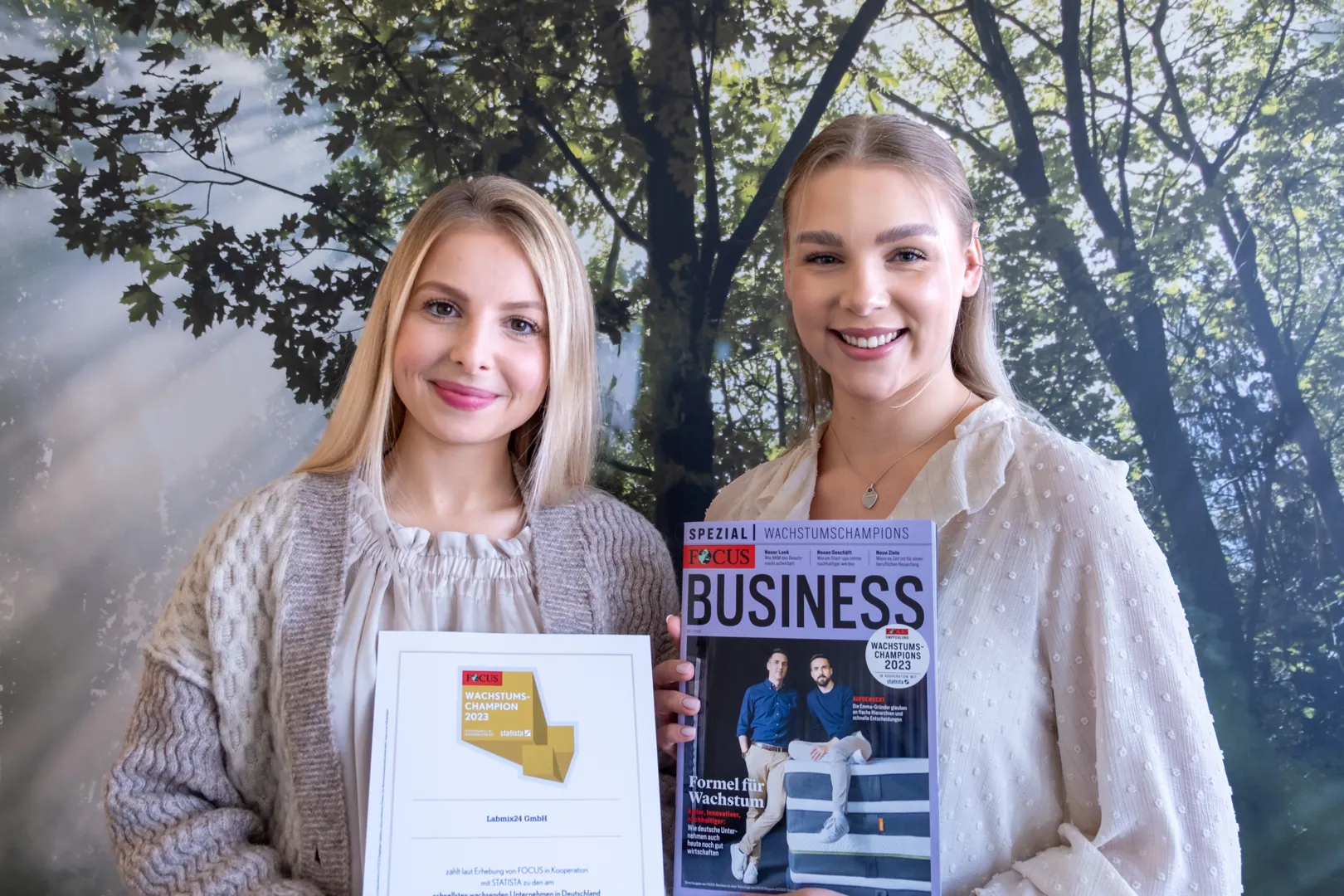 Labmix24 is transitioning to more sustainable packaging
September 2022
Have you noticed some changes to the packaging materials used in your recent shipments?
We select our packaging materials thoughtfully and are currently in the process of switching over to more environmentally-friendly alternatives.
Our priority remains to package your order carefully to withstand shipping. We want your order to arrive in excellent condition. If non-biodegradable packaging is required to achieve that, we choose recycled materials if available.
Both our document envelopes and packing tape are now paper, not plastic, to ease recycling.
We also reuse packaging material whenever possible. As an example, we've largely replaced packing peanuts with shredded paper.
Our new sticker—printed on recycled paper—explains these efforts.
We'd love it if you're able to reuse or recycle the packaging materials used in your shipment.
Labmix24 named a 2022 FOCUS BUSINESS Growth Champion
November 2021
For the third year in a row, Labmix24 has been recognized by FOCUS BUSINESS magazine as one of the 500 fastest growing companies in Germany.
Every year, out of the 2,000,000 companies registered in Germany in the commercial register, the 500 companies with the highest average growth rates are recognized as growth champions.
Labmix24 achieved 6th place in the chemicals and pharmaceuticals category, which includes well-known companies such as BioNTech and Centogene. We are honored to receive this award again and celebrate together with our employees.
Thank you for your continued trust!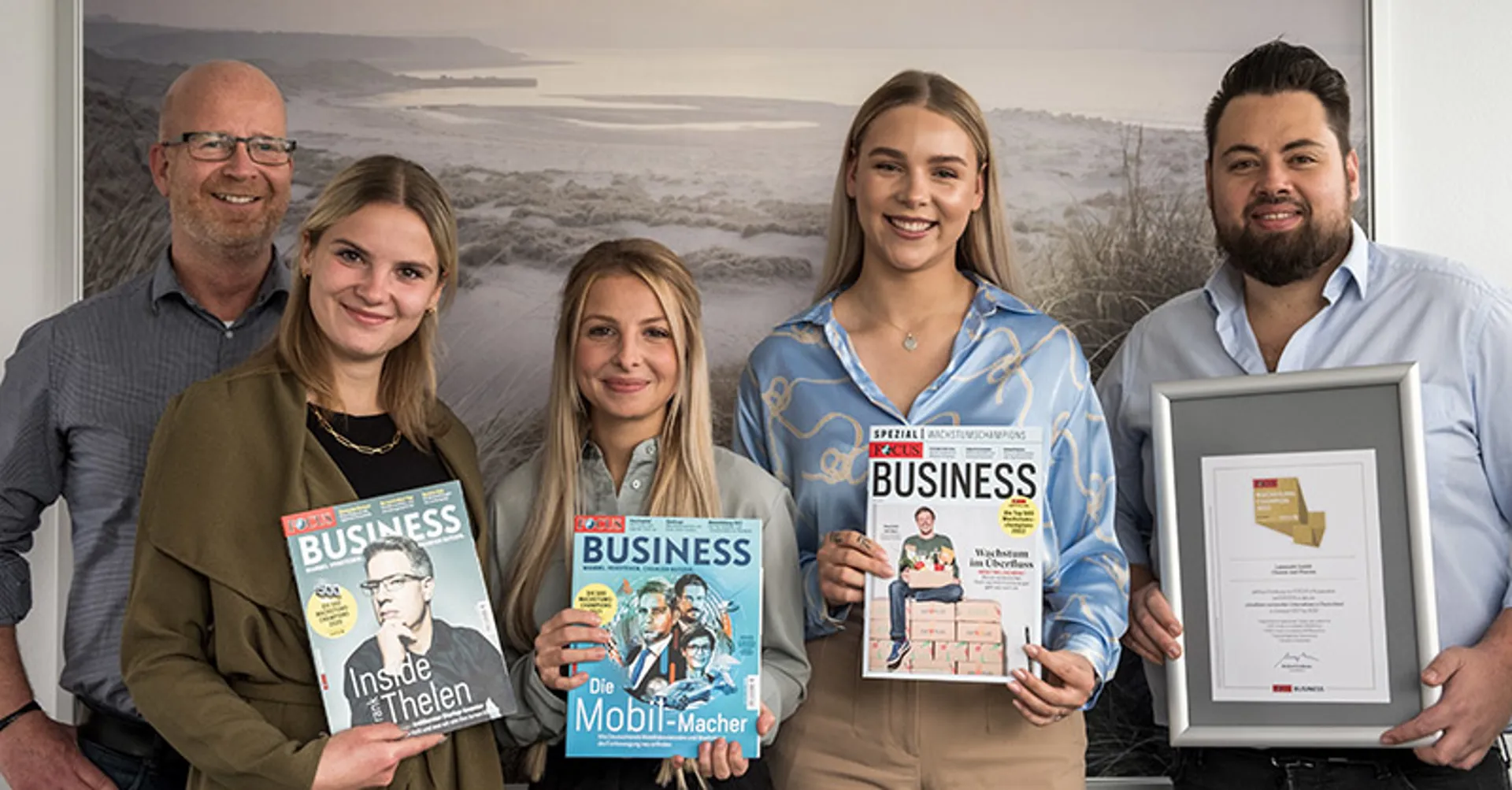 Labmix24 on the FT 1000 List
March 2021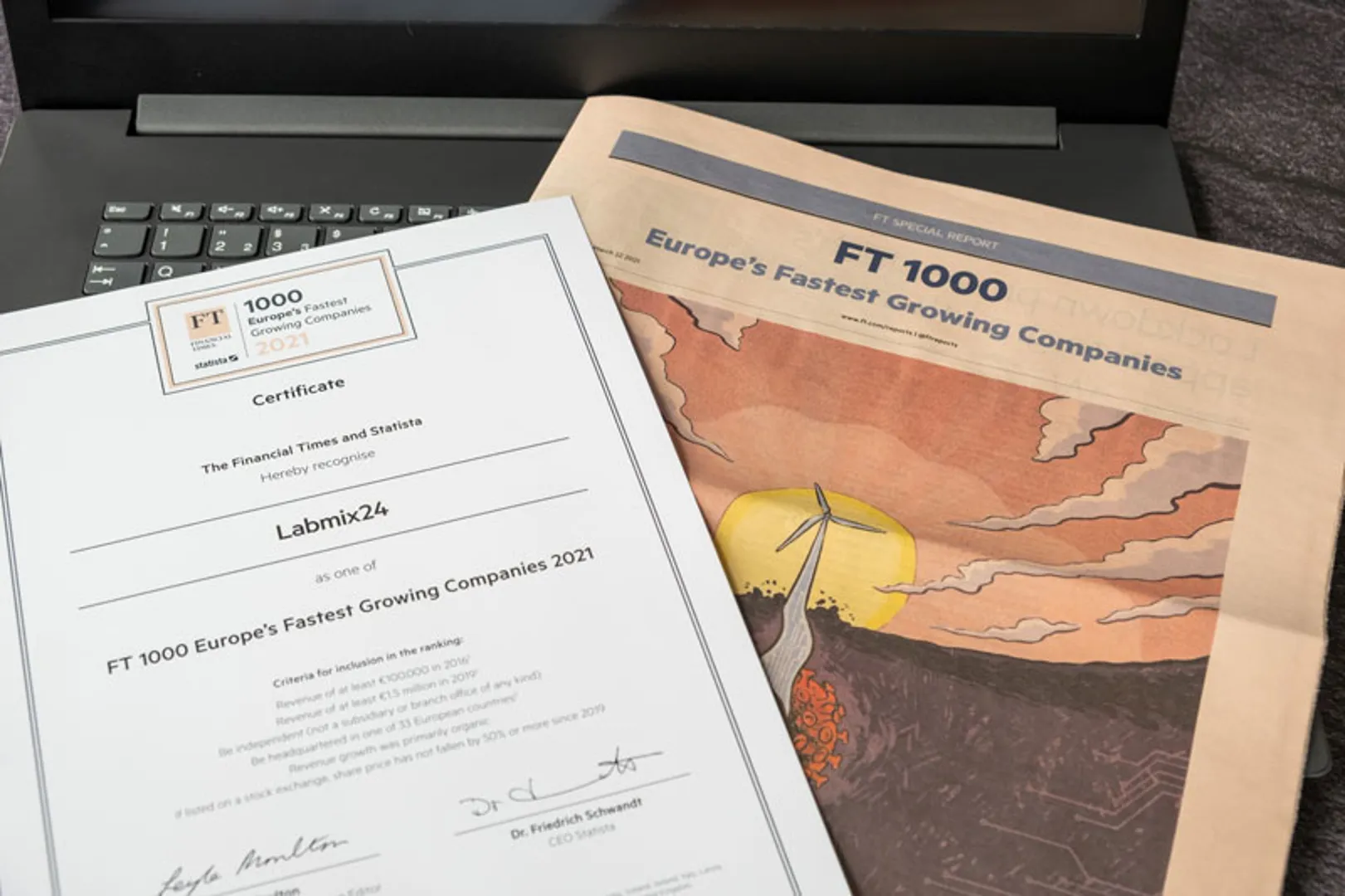 After 2 years in a row as FOCUS growth champions, Labmix24 has now also been recognized by the Financial Times and STATISTA as one of the 1000 fastest growing companies in Europe! The FT 1000 is a list of the 1000 companies in the EU achieving the highest compound annual growth rate between 2016 and 2019. Founded only in 2014, Labmix24 has now reached the 830th place on this list. Read the full article
Labmix24 is a 2021 FOCUS BUSINESS GROWTH CHAMPION
November 2020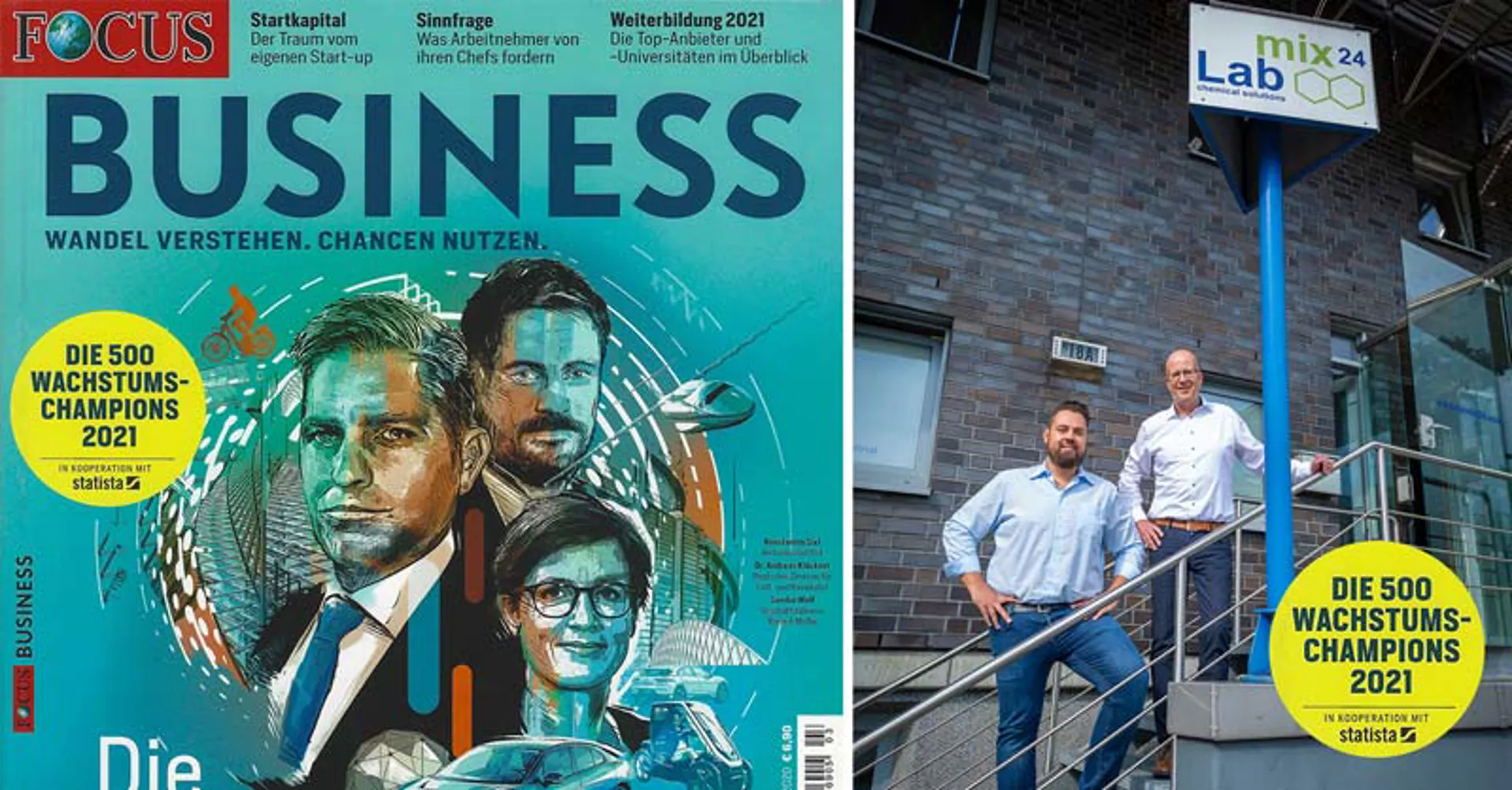 We're proud and excited to announce that Labmix24 has been named a Growth Champion by FOCUS Business magazine for 2021!
Founded just seven years ago, Labmix24 has now been recognized by STATISTA and FOCUS Business as the number 6 ranked company for growth in the Chemical and Pharmaceutical Industry and number 177 in Germany overall! This award is given to only the 500 fastest growing companies out of over 2 million companies registered in Germany.
We couldn't have done it without the ongoing trust of our customers, the dedication to quality and on-time delivery of our suppliers, and our team's commitment to excellent customer service.Thank you all so much. We're looking forward to a productive future with you!
Vier.Sechs.Drei. feature
March 2018